Dual – Shaft Slitter Rewinder TMS 840
The Mini-slitter rewinder mod. TMS 840 is used to work materials as plastic films, paper and laminates
in order to obtain thinnest film and narrow webs.
Equipped with asynchronous A.C. motors (digital flux vector inverters), has a work speed of 500 mt/1'.
A splice table, the one-way pivoting web guide and a slitting group managed by electro-pneumatic system
are the main features that names it as a "tailor made" machine, particularly involved in the label industry.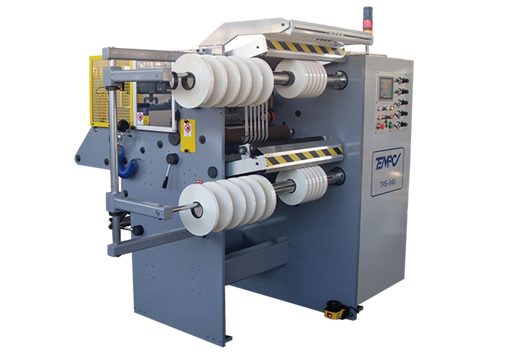 Standard Equipments
Mother roll holder shaft located in the machine frame, having a pneumatic expansion with self centering system for cores with inside Ø 3".
Slitting system with oscillating razor blades.
Side compact and mechanical rewound roll un-loading fork system, integrated in the structure of the machine and rotating on its axis for cores of 3".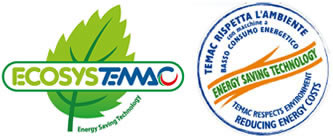 Controls
All machine controls are managed by wide color "Touch Screen" unit of 8" .
Low consumption and high efficiency A.C. motors achieved by fully digital Inverters with (close flux vector) mode configuration.
Automatic unwinding web tension managed by load cells driven by microprocessor system.
Pneumatic splice table controlled by PLC with blocking clamps and positioning sensors.
Automatic offset pivot web guide system (OPG) for the edge reading and servo center function.
Options:
Slitting system with circular pneumatic blade unit
Pneumatic shafts for unwinding and rewinding phases of 1"
6" cores adapters for pneumatic mother roll holder shaft
| | | |
| --- | --- | --- |
| Technical data TMS 840 | | |
|   Working width | mm | 650-1.000 |
|   Max batch roll diameter | mm | 800 |
|   Max rewound rolls diameter | mm | 400 |
|   Min standard slitting width | mm | 20 |
|   Max slitting speed | mt/min | 500 |