Dual – Shaft Slitter Rewinder SRS 850
The new SRS 850/S series joins the best of the simplicity and flexibility to the extremely compact design with single front work side. This new series is able to work a great number of flexible materials and satisfy the more diversified demands.
Standard Equipments
Compact unwinding group "Shaftless" type located in front machine side. Rewinding stations endowed with fully clutched shafts with ball spheres system to lock the cores during the rewound phase. Twin slitting systems with oscillating magnetic razor blades and shear circular blade units. "Laser" aid core positioning system. Main control panel assembled on adjustable pivoting frame. Side rewound roll unloading fork system.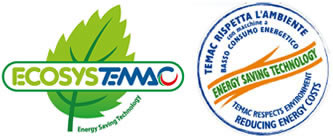 Controls
Tutte le funzioni della macchina sono gestite attraverso un ampio display LCD a colori di tipo "Touch Screen" in grado di memorizzare tutti i parametri di lavorazione creando menù richiamabili dall'operatore.
Controllo dei motori ad alta efficienza e basso consumo energetico di tipo asincrono A.C. attuata tramite Inverter digitali vettoriali di ultima generazione.
Opzioni:
Gruppo di svolgimento "Shaftless" indipendente con passaggio del film a pedana od a ponte.
Controllo della tensione del film in svolgimento gestita da motore A.C. asincrono comandato da Inverter digitale vettoriale.
Posizionamento delle unità di taglio a gestione totalmente automatica.
Sistema di contro bilanciatura dei rulli spremitori a gestione computerizzata attuata tramite "Touch Screen".
Sistema automatico di espulsione delle bobine lavorate.
Posizionatore "Laser" automatico per i mandrini in avvolgimento.
Sistema di tele assistenza tramite connessione modem o ethernet.
| | | |
| --- | --- | --- |
| Dati tecnici SRS 850 | | |
| Larghezze utili disponibili | mm | 1.000-1.300-1.600-1.800-2.000 |
| Diametro max bobina madre | mm | 800 |
| Diametro max bobine derivate | mm | 500 |
| Larghezza minima di taglio | mm | 20 |
| Max spostamento assiale bobina madre | mt/min | +/-50 |
| Velocità massima di taglio | mt/min | 600 |