Smartech, the new generation of Temac slitter rewinders
Temac has introduced a new way of interacting between man and machine: a true interface for Industry 4.0.
The industrial PC opens up worlds of interactivity that were previously very limited with the operator panel alone, not impossible, but which involved the use of additional hardware and software to make two different languages ​​communicate. With "smartech" transparency on communication is guaranteed towards all devices and development environments with Windows language.
The new HMI interface project, based on one of the most powerful SCADA ion the market, is called PCVISION and is born from a careful analysis of the requests of machine operators and production managers.
New control console introducing an IP65 fan less industrial Panel PC with a 15.6" wide touch screen.
wi-fi and LAN adapter for remote teleassistance
high resolution colour camera, that can be used, at the cusomer's convenience, to check various key point of the machine, such as the cutting units or the unwinding reel.
radio push-button panel for industrial environments, which allows the entire part of the shaftless unwinder to be operated. In this way the operator can perform the loading or unloading of the parent reels without being bound to the classic fixed controls present in this area of the machine, with a marked improvement in terms of ergonomics, safety and speed
diagnostic with extensive descriptions and solutions of problems with 3D images to better identify the problematic element.
The new interface integrates all the machine manuals and wiring diagrams in PDF format in order to have everything at hand.
audit Trail function: a series of data recording files on the processed events allows to understand and reconstruct any event, whether it has generated an alarm, or whether it belongs to a normal working phase.
alarm dispatcher function: allows the timely sending of alarms in the form of SMS or email messages to a single user or a group of users and the function can be customized according to schedules, calendars, shifts.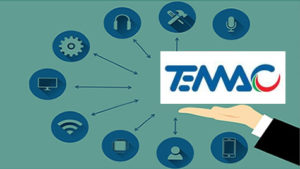 remote tele-assistance via wired or WiFi network allows advanced diagnostics as all the main hardware devices are connected to each other on an EtherNet backbone to be examined/investigated or programed remotely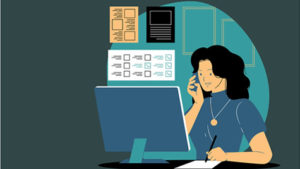 connectivity: it allows countless possibilities from sharing on the network to connecting peripherals such as printers code readers or RFID image mirroring installation of additional software such as MES, ERP, PLM etc.
PCVISION is fully compatible with all the new strategies of Industry 4.0
high resolution color camera that can be used at the customer's convenience to view various points of the machine, such as the cutting groups or the unwinding reel.
This is a further qualitative, functional and performance leap of TEMAC machines.
The SMARTECH series of TEMAC slitter rewinders offer the maximum evolutionary expression, persevered by TEMAC over many years and are seen by the global market as revolutionary within our sector.