Temac supports the production conversion of Sublitex, Miroglio group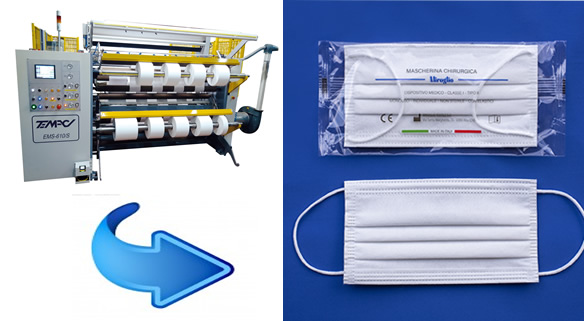 Safety masks are among the fundamental personal protective equipment that we have come to know to prevent and avoid the spread of the pandemic.
Due to the emergency and the difficulty in finding these personal protective equipment, more and more Italian companies have chosen to make a concrete contribution and relaunch the activities after the lockdown, aiming at the conversion of the production chains to create these safety masks. A choice also taken by Sublitex, Miroglio group, one of the largest companies in Europe in the market of manufactured fabrics, plain fabrics, yarns, paper and film transfer, which has decided to give a strong signal to the long fight at Covid-19, also producing protective equipment.
Temac is proud to communicate that in this production line the Temac mod. EMS 610 / S takes an important place.
With 1900 mm useful width, and the new hybrid rewinding station, able to rewind the processed materials at full machine width and at the maximum feasible diameter, the slitter was able to cut materials suitable for the production of safety purpose such as surgical masks and technical clothing for nursing and medical personnel.
The hybrid rewinding station then attracted the attention of many customers even outside the medical context, who chose Temac thanks to this important integration, unique in the market.
Temac with its slitters, can make an important service to face this difficult moment for the whole country. A considerable contribution to be ready to face future challenges, even if of a pandemic nature.