Slitter Rewinder TTS 160 / 180
TTS series machines join the best of the flexibility to extremely high performances available on the market, supporting the rewinding shaft during all working fases including the revolving.
These machines are able to work film, coex, laminated, papers and aluminium foils.
Standard Equipments
Independent hydraulic unwinding group "shaftless" type with integrated splice table with footboard or bridge web path.
N° 2 rewinding stations managed by fully automatic twin turret systems with fully clutched rewinding shaft managed by robotized supports which follows the rewinding shafts in all working phases (rewinding, revolving and downloading).
N° 2 fully automatic ended rolls pusher systems and laser units for the rewinding card board positioning aid.
"High End" level electronic controls for a constant reliability in the years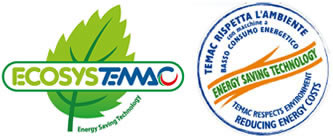 Controls
Digital servo vectors inverters manages all asynchronous and brushless motors.
PLC (programmable logic controller with "on board" ETHERNET connection for the supervision and remote assistance of all machine statuses) with man / machine interface implemented via industrial Panel PC IP 65 fanless, Touch-Screen 15.6", 4GB Ram, Intel 2.0 Ghz. QuadCore Windows 10 IoT 64 bit on SSD.
Control  by ethernet for a total remote control and direct service.
Options:
It's possible to use a fully automatic and computerized circular blade positioning systems.
Technical Data TTS 160/180

  Working width
mm
1.300-1.600-1.800-2.000
  Max batch roll diameter
mm
1.000-1200-1.500
  Max ended roll diameter
mm
600 (TTS 160)
820 (TTS 180)
  Minimum slitting width
mm
20
  Max axial displacement of batch roll
mm
+/- 50
  Max working speed
mt/min
700 (TTS 160)
800 (TTS 180)